The Employer's Guide To EU Pay Transparency and Pay Reporting Directive
The Employer's Guide To EU Pay Transparency and Pay Reporting Directive
The world is on the cusp of a new era of pay transparency. On March 30, 2023, the European Union approved new pay transparency directives for its EU member states to close the gender pay gap across the EU.
The aim of the Directive is to "strengthen the application of the principle of equal pay for equal work or work of equal value between men and women through pay transparency and enforcement mechanisms." The EU Directive will require every major employer to comprehensively review its pay equity policies. The new law includes measures related to pay transparency, pay data reporting, applicable reporting entities, and enforcement and penalty mechanisms. In addition, it encompasses measures related to the intersection between pay equity and the GDPR, as well as procedural requirements related to enforcement, such as the shifting of the burden of proof.
This whitepaper outlines the background to the new legislation, and explores issues including its impact on the hiring process, timelines for pay data, the Joint Pay Assessment, potential sanctions, and how pay equity software can help you to minimize risks and ensure compliance. It also notes the requirements of the EU's Corporate Social Responsibility Directive (CSRD).
Background
The principle of equal pay for work of equal value across the European Union is laid down in Article 1157 TFEU, in Directive 2006/54/EC on the principle of equal opportunities and equal treatment of men and women in matters of employment and occupation. EU member states must eliminate discrimination on the grounds of gender related to all aspects and conditions of remuneration for the same work or for work of equal value.
The EU has long recognized that a lack of transparency around pay is one of the major obstacles to achieving this goal. In 2019, President Ursula von der Leyen put pay transparency among the six priorities of her new Commission. In March 2021, the EU Commission published a proposal for Directive 2021/0050(COD) with the aim of strengthening the application of ''equal pay for equal work or work of equal value between men and women through pay transparency and enforcement mechanisms.''
Across the European Union, the gender pay gap stands at around 13%, with significant variations among member states; it has fallen only minimally over the last ten years. The difference in gender pay gaps across its 27 member states ranges from under 1% in Luxembourg to 18% in countries which include Germany and Switzerland. For comparison, the US gender pay gap currently stands at 18%, a figure which hasn't changed in the past two decades.
The vote on March 30th was the critical step. The Council of Ministers is now expected to endorse the legislation, triggering the process for the new directive to enter into force. At that point, EU member states will have three years to implement it into their national legislation. It is anticipated that the Directive will be enshrined in law by EU Member States by 2026 at the latest. All member states are required to designate an agency/body for the monitoring and support of the implementation of the Directive (the "Agency").
The new Directive applies to organizations subject to the EU member states law and focuses on two key strands, pay transparency, and access to justice for victims of pay discrimination.
The Directive also recognizes people who identify as neutral gender as well as intersectional discrimination.
Three key elements relating to pay equity:
The Directive contains three key areas that relate to pay equity, namely, Pay Transparency, Pay Data Reporting, and Enforcement and Remedies. This guide considers the requirements related to these categories in the following areas:
Pay Transparency Prior to Employment
Pay Transparency During Employment
Pay Data Reporting
The Joint Pay Assessment
Sanctions for Non-Compliance
Key definition: workers
A key definition should be noted in the context of the Directive.
The EU Directive deliberately uses the wider term of "worker"' versus '"employee", to create a wide and inclusive range of people, including independent contractors, agency workers, job applicants, part-time and full-time employees. It also extends to "domestic workers, on-demand workers, intermittent workers, voucher based-workers, platform workers, workers in sheltered employment, trainees and apprentices", provided they meet the relevant criteria.
Pay transparency prior to employment
How is the hiring process affected?
The intention is to eliminate pay discrimination by including pay transparency prior to employment, which impacts the hiring process. Workers (job applicants in the hiring process) have the right to access relevant information to pay to negotiate their salary fairly. This extends to their individual salary level and the average salary level broken down by gender, for categories of workers doing the same work or work of equal value. It applies to all, irrespective of company size.
Salary data does not have to be included in a job listing provided that the data is disclosed prior to interview or otherwise, but if included in the job listing, it can allow for more transparent pay negotiations. Vacancy notices and job titles must be gender neutral, and hiring processes must be led in a non-discriminatory manner to avoid undermining the right to equal pay. In a broader context, this legislation will help to reduce unconscious bias in recruitment, which can contribute to pay equity.
Employers must indicate the initial pay level of its range to a prospective worker for a specific role and, if applicable, must also consider providing the relevant provision collective agreements in relation to the position.
A ban on salary history
To prevent the perpetuation of the gender pay gap, the EU Pay Transparency Directive prohibits employers from asking job applicants about salary history.
''Employers should not be allowed to enquire and proactively try to obtain the information about the current pay and prior pay history of the applicant for a job.''
Pay transparency during employment
5 key changes impacting pay setting and career progression
Under the terms of the Directive:
Workers have the right to receive information in writing on their individual pay level and average pay levels, categorized by gender, for other workers doing the same work - or work of equal value - to them.
This information must be provided with a reasonable time, and not later than two months from the date of request. Workers can request additional details if the response is either inaccurate or incomplete.
Employers must also inform all workers on an annual basis of their right to receive this information, which can be requested through representatives or an equality body (i.e., through a workers union).
There is no prohibition of salary disclosure. Workers may disclose their pay, for the purposes of enforcing equal pay.
Workers can also request access to the objective criteria used to determine pay ranges and career progression.
Member states may exempt employers with fewer than 50 workers from this requirement.
When is pay data reporting required under the new directive?
Understanding when pay data reporting is required means employers can begin to comply and anticipate any barriers to compliance. Frequency of reporting depends on the size of organization, but must be submitted as follows:
Year 1: Employers with 250+ workers:gender pay gaps must be reported publicly annually, beginning one year after the legislation is incorporated by the Member State.
Year 2: Employers with 150-249 workers: gender pay gaps to be reported one year after legislation is incorporated by the member state, and every 3 years thereafter.
Year 6: Employers with 100-149 workers: gender pay gaps to be reported five years after incorporation by Member State, and every 3 years thereafter.
By 2026, all large employers must report gender pay gaps
By 2031, all smaller employers (100 or more employees) will have to comply
Employers with less than 100 workers may choose to voluntarily provide pay data reporting. In any event, employers should bear in mind that member states may choose to make pay data reporting mandatory for all and may wish to prepare for that outcome.
6 key areas for pay data reporting
To comply with the EU Directive, employers must report on the following six areas (see also additional definitions below):
Gender pay gap
Gender gap in complementary or variable components (base pay and bonuses, additional compensations etc)
Median gender pay gap
Median gender gap in complementary or variable components
Proportion of female and male Workers receiving complementary or variable components
Proportion of female and male Workers in each quartile pay band
Gender pay gap between Workers by categories of Workers broken down by (i) ordinary basic salary and (ii) complementary or variable components (i.e., base pay and bonuses, additional compensations etc)
The information must be reported to a body responsible for gathering data to monitor pay disparities and the effectiveness of pay transparency measures. Employers may publish the information on their websites or otherwise make it publicly available. Detailed information on the pay gap, such as, basic salaries and complementary or variable components, can be omitted at this stage.
Workers have the right to access pay equity methodologies applied by the employer and request additional clarification, including explanations of pay differences. Employers must respond to requests within a reasonable period.
The joint pay assessment (JPA)
What is the JPA and how will it apply to employers?
The Joint Pay Assessment is designed to increase identify, remedy, and prevent employer pay disparities within an organization. A Joint Pay Assessment is triggered when:
Pay Data Reporting identifies a gender pay gap of at least 5% in any category of workers;
The employer cannot justify the gap on the basis of objective gender-neutral criteria; and
The employer has not remedied the unjustified difference in the average pay level within six months of the date of the Pay Data Report being submitted
Employers must make Joint Pay Assessments available to workers, their representatives and Agency. All unjustified pay differences must be remedied within a reasonable time period, and in close cooperation with the Workers representatives.
For each category of worker, the following detail is required:
Analysis of the proportion of female and male workers;
Average female and male workers (i) pay levels and (ii) complementary or variable components;
Identification of any differences in average pay levels between female and male workers;
Reasons for any differences in average pay levels based on objective, gender neutral justifications established jointly by the workers representatives and the employer;
Additional detail includes the proportion of female and male workers who benefited from any applicable improvement in pay following their return from maternity/paternity/parental/career leave;
The measures to address the gender pay gap, if it cannot be justified on the basis of objective and gender-neutral criteria; and
Where measures relating to previous pay assessments have been implemented, these must be evaluated for their effectiveness
While onerous, employers can seek to avoid triggering the JPA by carrying out pay equity audits and taking steps to continuously review and remedy pay disparities within their organization.
Sanctions for non-compliance
What potential sanctions will employers face?
The new EU Directive is intended to ensure compliance with the Directive as well as provide justice for victims of pay discrimination.
Member states must establish sanctions for failure to comply with the regulations, which will include "effective, proportionate and dissuasive penalties." The Directive makes clear that member states must "ensure that penalties guarantee a real deterrent effect."
In addition, compensation must be paid to employees subjected to pay discrimination, including full recovery of back pay and related bonuses or benefits of any kind. There will be no cap on compensation.
Burden of Proof
In addition to the right to compensation, the EU Directive introduces a "shift of burden of proof" in cases of alleged pay discrimination. The burden of proof will be on the employer to prove that there has been no pay discrimination if an employee makes an initial showing implying pay discrimination. Exceptions will apply if the Employer's process is manifestly unintentional or minor. Employers should also be aware that member states may opt to introduce additional legislation that is more favorable for claimants.
Equality bodies and workers representatives may act in legal or administrative proceedings on behalf of workers. Employers will also be prohibited from taking adverse action against workers who exercise their rights under the EU Directive or offer support to other workers.
The EU corporate social reporting directive (CSRD)
The new rules are part of a larger European movement that goes beyond pay equity and gender equality to incorporate workplace diversity and inclusive policies.
Pay equity is interconnected with global issues surrounding diversity, equity, inclusion, and access (DEI&A), as well as the "social'' element of ESG (Environmental, Social and Governance) criteria.
With effect from January 5, 2023, the EU's European Union (EU) Corporate Sustainability Reporting Directive (CSRD) came into force. EU member states will have to incorporate these obligations within their national legislation by June 16, 2024. Again, the timeline for reporting will depend on company size, however, reporting on pay equity is a key element for all companies required to produce an Annual Sustainability Report.
The CSRD replaces the Non-Financial Reporting Directive (NFRD) and more than quadruples the number of companies required to report on ESG, which has risen from 11,700 to almost 50,000.
The EU directive - at a glance
In summary, the EU's new Directive rules mean:
Employers must provide information about the pay level of their job listings prior to interview
Employers cannot ask job applicants for information on their salary history
All employees can request information on their individual and average pay levels, categorized by gender, for workers doing the same work or work of equal value
Employees will have access to the criteria used to define salary and pay raises, which must be objective and gender-neutral
Employers will have to publicly report on the gender pay gap (differing timing requirements apply depending on the employer size)
Where a gender pay gap of 5% or more exists, which cannot be justified on the basis of objective gender-neutral factors and cannot be remedied within six months of reporting submission, employers must carry out a Joint Pay Assessment
Anyone who has been negatively affected by pay disparities and pay discrimination can seek the right to compensation, including full recovery of back pay
"Pay" means salary or minimum wage and any other consideration (cash or in-kind) (complementary or variable components)
The burden of proof will shift to the employer to prove that there has been no pay discrimination in the event of an initial showing by claimant
Member states will be required to impose fines for employers in breach of the Directive
Member states with existing pay equity mechanisms in places will have to ensure compliance with the new Directive.
Complying with the EU Directive
Once the Directive is adopted, member states will have three years to transpose its provisions into its own national legislation. In practice, this suggests implementation in 2026, however, some member states could implement legislation earlier.
Many of the new requirements will demand a new approach to pay equity and transparency in the EU. Employers that begin to review how they will record pay data and identify and address potential risk areas now will be better placed to ensure compliance when the rules come into force. Consider the following strategies:
Employers operating in the EU must evaluate how the Directive affects their hiring, pay, progression and reporting practices and implement compliance strategies in response
Carry out pay audits to identify and proactively address pay disparities
Review compensation philosophy, job evaluation systems, job descriptions and job listings to ensure they are gender-neutral and based on objective criteria
Involve the workers representatives to ensure a fair and transparent evaluation process, which also applies with existing rules
Ensure employment contracts do not contain any pay secrecy clauses
Introduce systems that enable easy access to information on the gender pay gap and implement procedures to comply with the Directive
Prepare policies that state how they will respond to employees who choose to exercise their rights under new pay transparency laws. Establish clear procedures to address pay discrimination complaints that may arise.
Keep in mind that the EU Directive sets minimum standards and allows member states to adopt more aggressive approaches that may complicate compliance
Specialized pay equity software like Trusaic's PayParity can simplify the process by conducting pay equity audits and providing tools to determine fair salary ranges, report pay data to agencies, and reduce the risk of enforcement and comply with the complex, variable laws within the EU and internationally. We recommend the following strategies:
Analyze compensation: PayParity conducts a pay equity audit across an employer's workforce at the intersection of gender, race/ethnicity, age, disability, and more in a single statistical regression analysis. The results of the audit will help employers understand where risks exist and identify areas for remediation.
Identify the cause of pay disparities: Utilizing advanced analytics and algorithms, PayParity helps employers pinpoint specific factors that may be creating disparities in pay, such as biases or systemic processes. By addressing the root causes, employers can take proactive steps to prevent future instances of pay inequity. With the insights provided by PayParity, employers can confidently report accurate, risk-free pay data and post equitable salary ranges for jobs as required by pay transparency legislation, including the EU Directive. PayParity can help employers develop important communications for stakeholders, such as investors, employees, and have a positive impact on the perception of your employer brand.
Choose fair salary ranges for job postings: A solution like Salary Range Finder™ can help businesses determine competitive and fair salary ranges that prevent future pay inequity, while still allowing them to attract top talent. Salary Range Finder, a component of PayParity overlays internal pay equity audit data with that of external labor market data provided by Lightcast™. By combining the two data points an organization can instantly determine fair salary ranges for job posts and eliminate the need to remediate disparities later.
Staying GDPR compliant with the European Union: Trusaic is GDPR compliant and can assist any organization in any EU state in meeting its obligations under both the EU Corporate Sustainability Reporting Directive and the EU Directive.
A game changer in pay transparency and pay data reporting
The EU Directive is potentially a game changer in the movement towards global pay equity. The Directive is different to pay transparency and pay data reporting legislation in the U.S., for instance, as it requires employers to regularly report on the pay gap and take action where that pay gap exceeds 5%.
In addition, it has undefined - and potentially unlimited - sanctions for non-compliance.
Most employers, however, are not equipped to carry out an accurate pay equity analysis or implement effective pay equity policies in their organizations. Research from Josh Bersin found that while 70% of business leaders see pay equity as a "critical component" of their talent and business strategies, only 5% are "truly excellent" at pay equity. The remainder see it as "a legal requirement, a sporadic compensation project or a way to enforce skills-related pay approaches."
For the 95% of companies that have yet to implement an effective pay equity policy to respond to requirements of pay equity legislation, solutions like Trusaic's PayParity can help. A comprehensive pay equity analysis offers the most effective starting point to identify existing pay disparities and areas for improvement to prepare for the EU Pay Transparency Directive.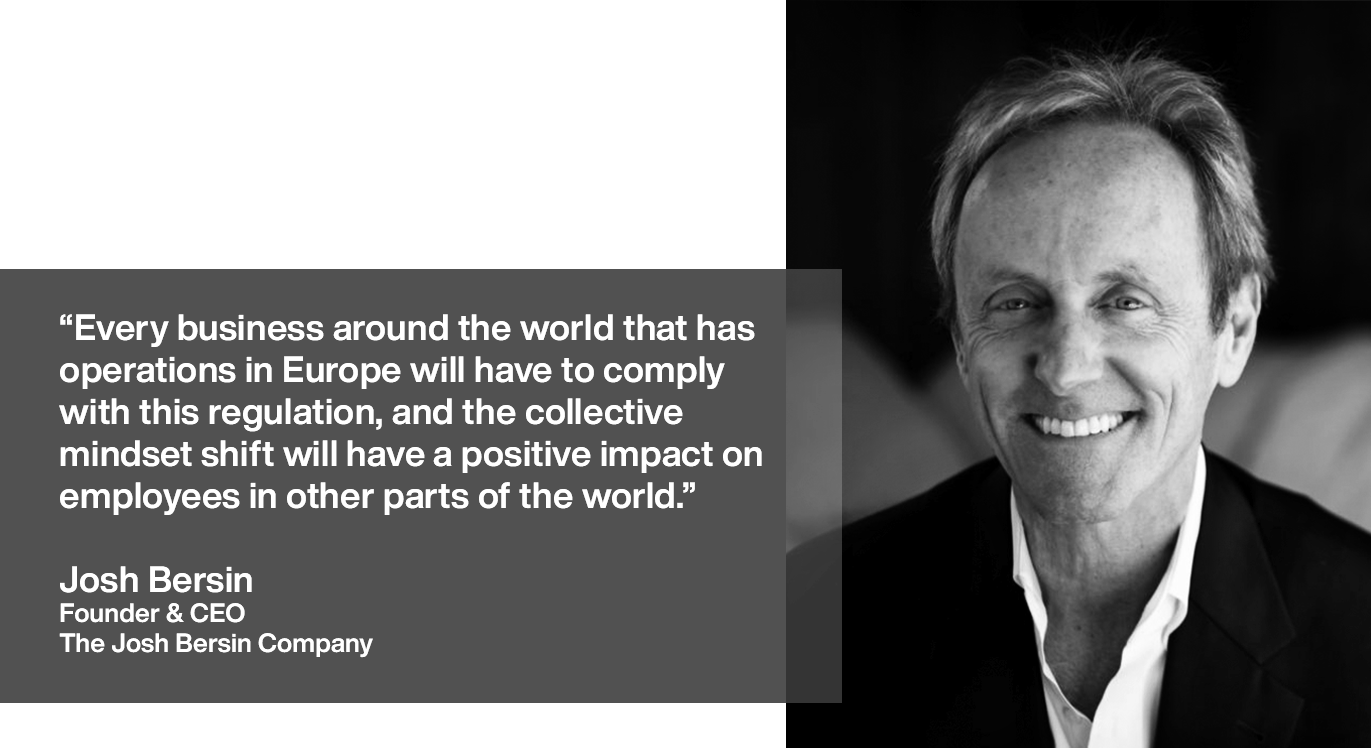 Compliance experts
you can count on